Barranquesa offers an extensive experience of more than fifty years in the metal sector. Over this time, the company has specialised in the manufacture of all types of flanges, for applications as wide ranging as plumbing, gas installations, concrete mixers, wind turbines, etc.
We have also established a strict quality policy through meticulous control of all manufacturing phases. We count with CE marking according to EN 1090 and we are certified by Bureau Veritas in ISO 9001 and ISO 3834. In addition, the welding procedures are certified by Germanischer Lloyd. We define ourselves as a socially responsible company, making every effort to ensure the conservation of our environment and workers safety.
We are a socially responsible company which strives to optimize resources, minimizing our impact on the environment. We also implement measures for a good work and family life balance and the professional development of our personnel. For these reasons, the company is ISO 14001:2015 + ISO 45001:2018 certified. ISO 14001 allows companies to demonstrate their commitment to protecting the environment through the management of environmental risks associated with the activity being carried out. On the other hand, ISO 45001 is an international standard that specifies the minimum requirements for an Occupational Health and Safety (OH&S) management system intended to allow the organization to control its risks and improve its performance in this area.
At Barranquesa we understand Quality and Service to be synonymous with customer satisfaction, as something that can actually be perceived and demonstrated. To achieve this goal, all our work is focussed on producing products to the defined specifications, within the specified lead times, at competitive prices whilst always showing the maximum respect for the environment.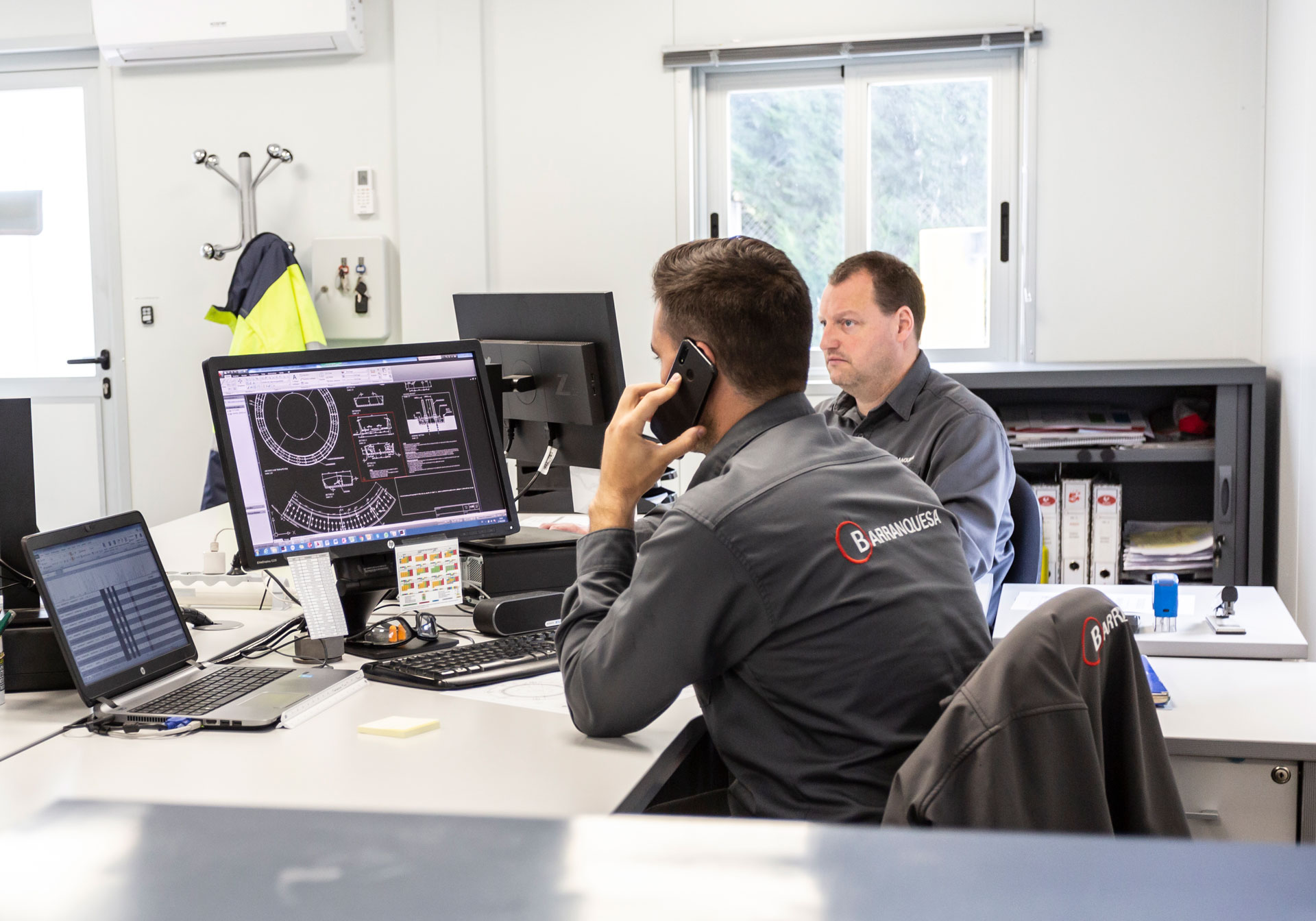 Since our beginnings, we have worked hard towards becoming a leading company, constantly investing a significant portion of our budget on R&D and innovation.
This technological development policy has put us at the forefront both nationally and internationally thereby managing to:
Enhance process capability and productivity.

Extend our range of products.

Roll out new technologies.

Comply with defined specifications and meet deadlines.
Barranquesa offers a unique mix of long-time experience and youth. This has enabled us to continually grow, tailoring our business to the new strategic industries driving socioeconomic development.
Besides this equipment, we believe that constant adjustment to new technological possibilities that are being developed to cover market needs related to new flange applications is fundamental. Therefore Barranquesa invests a large part of its financial potential to permanent investments in technology.
Manufacturing Tower Flanges
Heat Treatment furnaces up to 6 m.

CNC Vertical Lathes up to ø 6 m.

CNC Drills up to ø 6 m.

Cranes up to 25 TN.

Oxycut 20 m.

Heating furnace up to 17 m.

Hot Bending machine.

Flash-Welding machines.
Manufacturing Anchor Cages
5-Axis CNC Milling Machines

Oxycut 20 m to cut sheet steel up to 300mm thickness

500 T. Press

600 T. Press

Welding cells

Cabins for surface treatment

Cranes up to 25 T.