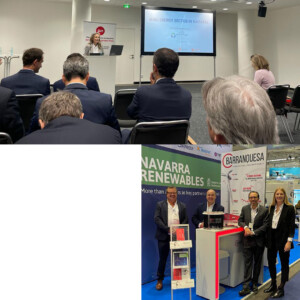 Last week a few members of staff from Barranquesa visited the fair WindEnergy in Hamburg.
The trade fair site is a large exhibition space, 10 out of the 11 halls were occupied for the WindEnergy fair, thus the influx of professionals to the fair was abundant. We had the opportunity to talk to potential clients and colleagues in the sector. The most important companies in construction of wind generators were present such as Vestas, Siemens Gamesa, Nordex or Enercon.
Our agenda was full every day and we were able to hold meetings and very interesting conversations with partners.  We also enjoyed the company of 15 Navarrese companies that took part in the Navarra Renewables stand, supported by the Government of Navarra.

Navarra Renewables stand and Government of Navarra
On this occasion we took part in a large stand in which we shared space with 14 other companies from the same sector from the region of Navarra. We would like to thank the support of the government in these types of actions that add value to the Navarrese industry.
We would like to highlight the presence of Mikel Irujo, Business and Economic Development Adviser of Navarra and Izaskun Goñi Razquin, Business Policy, International Projection and Labour Director General of Government of Navarra for their attendance and the event organisation.
Positive Assessment
We are very grateful for the great organisation and quality of the fair attendees. The experience has been great.
And without a doubt, one of the most satisfying moments was when the property of the wind parks Pjax Bole and Kalistanneva in Finland approached to thank us for the great job that we carried out. They highlighted the coordination of shipments and the timeliness from Germany and Spain for a large wind park that comprises 56 wind generators. And also the flexibility and capacity to solve some supply problems for another park of 13 towers.
A trade fair that has left us with a great feeling and perspectives. Very likely that we will meet again in Copenhagen.